Local pick up by appointment only (no exceptions).  Location at near Wildfire Gymnastics Tustin.
This special price is only for local pick up buyers.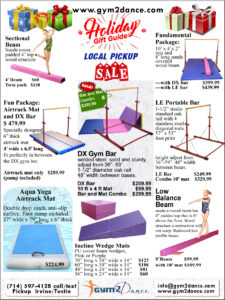 FAQ
Where is the pickup location?
A: We don't have a show room and are passing big saving by offering pickup direct sale. Appointment is absolutely necessary. We will need to prepare your order. Two pickup locations at city of Tustin (near by Jamboree and Walnut) and Norwalk (near by Carson and Norwalk).
How do I purchase for local pickup price?
A: Email your shopping list to info@gym2dance.com and indicate your payment method. Credit card and PayPal payment add 3%.  We will send you invoice and product availability. Credit card and PayPal payment to be make before pickup.
When can I pickup the items?
A: We will arrange pickup schedule appointment with you. (Normally within 3 days)
Can I return?
Contact us to resolve any issue.  We will replace the product or parts that is defective.  Return is accepted within 2 weeks.  Full refund for un-used, in original packaging.   15% restocking fee for used item.
Do you offer pick up through out the year?
We only offer special pickup pricing during holiday season.
How to contact if I have questions?
We prefer email info@gym2dance.com as we can answer your questions promptly and more accurately.
Do you have everything in stock and when is sales over?
Product supplies are limited.  Price may change due to availability. Make your purchase early.